My name is Brad Higgins. I have always had a love and fascination for houses. I remember as a kid spending hours with my father on his construction site watching him and the other construction men build houses. My father owned his own construction company in the Denver, Colorado area. Like myself he always had a fascination for architecture and building his customers their dream homes. I think that's where I get it from.
I have been a resident of Rochester, New York most of my life. That being said I have become accustom to the style and culture of our wonderful city and it's lying towns, villages, and other areas. As a real estate agent I love what I do and hope that I can channel that energy into each and every one of your home buying experiences. As a recent first time home buyer, I know that buying a house can be a very stressful time in your life. I hope and pride myself on the fact that I know that I can make this process less stressful and easier. My goal as a real estate agent is to not only help you find a house but to help you find a home, and hopefully have some fun doing it!
I am very happy to say that I am a part of the RPP Sold Team of Re/Max plus. My goal is to provide you with the highest quality of knowledge and service in Rochester region. What I like about the RPP Sold Team is the simple fact that we are a TEAM! When you work with me, you are also working with an entire team devoted to helping you buy or sell your home. Now, that beig said, whether you are a first time buyer or looking for your forever home, I would love to be a part of that journey. I look forward to meeting you and I hope to hear from you soon!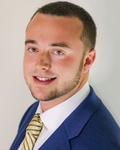 Brad Higgins
Licensed Assistant To Robert Piazza Palotto
Robert PiazzaPalotto Sold Team


2171 Monroe Avenue




Rochester

,

NY

14618


Phone:

(585) 623-1572


Fax:

(585) 623-1572